In the 2000s, Polish hockey started to go on a downswing. Many national team players that proved their worth with strong performances outside of Poland were beginning to retire. Poland still had NHL talents like Mariusz Czerkawski and Krzysztof Oliwa, but club duties saw their national team appearances few and far between. More and more talent now stayed in Poland. This trend would continue into the mid-2000s, and the talent well was starting to get dry. The lone bright spot in the prospect group was Marcin Kolusz.
The small town of Limanowa was devastated by World War two, with a large part of the population killed by Nazi forces. Since then the population of the town has stayed small with 15,000 residents. The city would be excused for not having a strong athletic background. The local soccer team plays in Poland's third-tier league. While they have had a strong presence in the skiing world, thanks to their mountainside location. 2018 Olympic bronze medalist Maciej Kot is one of the national team skiers to come out of the town. An ice rink just ten kilometers away in the small village of Tymbark always left the ice hockey option open. 
Only two players show up in the EliteProspects database as coming from Limanowa; Bartłomiej Gaj and Marcin Kolusz. Gaj just being one year younger than Kolusz.  Both would make the move to Nowy Targ to play for Podhale Nowy Targ, over an hour away from Limanowa, at the same time.
Kolusz immediately made an impact making his senior debut for Podhale in the second division at just 15-years-old. His debut made him the youngest rookie at the time in club history. The following year, he would make his Polska Hokej Liga debut while also playing for the Polish U18 squad. He would continue to earn a larger role with Podhale. 2003 was his real breakout year, where he played for both the U18 and U20 squads, while playing in the PHL full time. This put scouts on notice, including ones who don't usually give Polish prospects the time of day. 
The 2003 NHL entry draft is underway. The first overall pick belongs to the Pittsburgh Penguins, who take franchise goalie Marc-Andre Fleury. Other selections include Dustin Brown, Eric Staal, Patrice Bergeron, and Marcin Kolusz. The Minnesota Wild took a chance on Kolusz 137th overall in the fifth round of the draft. John Mitchell, who went on to play over 500 NHL games, was selected by Toronto the pick after him. It was heavily rumored the Edmonton Oilers were interested in Kolusz at the time, but they took American forward David Rohlfs just a few picks earlier. From Hockey Futures, they wrote about the selection at the time.
"Raised in a country that gets little hockey exposure, Kolusz hired the agent that brought Dominik Hasek to the NHL. He prides himself on hard work and good hockey sense. Wild scouts agreed, and have said he possesses good size very good skating ability. They liked him so much that they tried to move up in the draft to get him. Although unable to move up, the Wild were still able to select him at the 157th spot." 

Hockey Futures
Kolusz was already on his way over to North America after being selected by the Vancouver Giants in the Canadian Hockey League import draft. He was the first-ever Polish player selected in the CHL import draft. Playing in the Western Hockey League (WHL) was the chance that Kolusz needed. He had his foot in the door, and a strong performance in the WHL would net him an entry league deal. A deal that would likely see him play in the North American minor system or even the NHL. 
His run in the WHL was not a success. In 68 games with the Giants, the young Polish forward recorded six-goal and twelve assists. He would add one more goal in six playoff games. The Giants' year was disappointing considering some of their talents, with five players being future NHL players. The team would swap out both of their imports for the following year bringing in Czech goalie Marek Schwarz and future NHL defenseman Andrej Meszároš. The Giants released Marcin Kolusz to help make room for the new imports. 
There were no takers for Kolusz in North America, so he returned to Poland and Podhale Nowy Targ at 19-years-old. After one season back in Nowy Tag, he left once again, signing in the Czech Republic with HC Ocelari Trinec. The first year he spent more time in the Chance Liga, only playing a handful of games in the Tipsport Extraliga. He would spend the next two years with HC Ocelari Trinec full time in the top league but never impacted the score sheet. His total production was six goals and two assists in 86 regular-season games. The 2008 season was the end of his run in the Czech Republic. After Kolusz's three-year tenure in Czechia, it put his hockey potential in question.
Five years after being drafted, Kolusz was getting another chance in the much weaker Slovakian Tipsport Liga. The 6'1 center joined HK SKP Poprad in 2009 with the hope of jump-starting his professional career. While he produced better results, he only scored one goal and recorded thirteen assists in fifty-three games. Tenth in points among all forwards on the squad. Poprad had a poor season and would just be saved from relegation. 
In 2009, Kolusz would return to Poland after just one year in Slovakia. Now back in Nowy Targ, Kolusz was back to producing around a point per game season. Both his career and the league were on a downfall. He established himself as one of the top forwards in Poland. From 2009 to 2015, only three players had more points than Kolusz. He also picked up three PHL championships and two Polish Cups with GKS Tychy, KH Sanok, and Podhale Nowy Targ.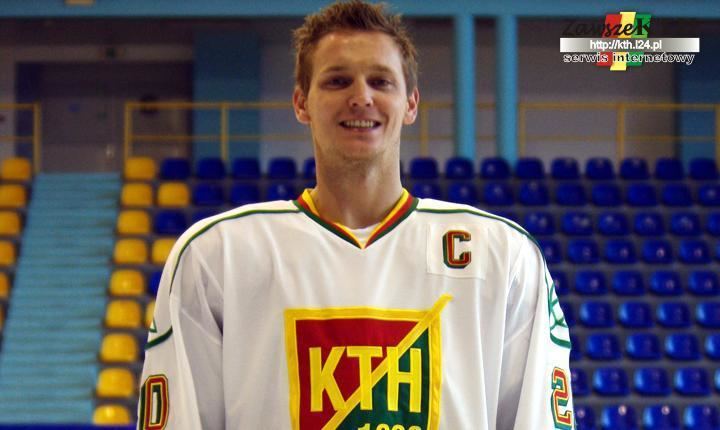 He was not only a top player in the PHL but for the Polish national team as well. Kolusz has been a national team star since his time with the Vancouver Giants in the WHL. During the span, only Leszek Laszkiewicz had more games and points than Kolusz. He represented Poland at ten total world champions, four of which he served as team captain, two of them he served as an alternate. While he may not have lived up to the potential that was once thought of, he was no doubt one of the Polish players of the decade. Top players in Poland no longer played in the top leagues around Europe. They were mostly contained in Poland, with a few in lower clubs around Europe. 
Starting in 2016, Kolusz would begin to decline. His PHL season with Tychy was great, but his World Championship run was only two assists. His lowest output at the tournament since 2009, and the only time he didn't put up a point per game numbers since then. The following season, he would record his worst PHL production since U20 years in the PHL and go pointless at both the World Championships and Olympic qualifiers. He would only record two goals in 15 other international games as well. This lead to plenty of people questioning his position on the national team. One person I talked to at the time referred to it as just paying for him to take a vacation. Kolusz would return to Podhale Nowy Targ after four years with GKS Tychy. Being back in Podhale didn't change everything, but his production was better than the year before.
The national team itself was going through a more considerable turmoil at the time. Ted Nolan did not work at all, and the team was relegated to division 1 group B. Enter Tomek Valtonen. Valtonen has his own controversial legacy in regards to the national team and the PHL.  While coaching Podhale Nowy Targ, Valtonen saw the potential that Kolusz has, especially his skating ability. The Finnish head coach made one significant change for Kolusz, as he switched the long time forward to defensemen. This switch wasn't the first time he had played the position, but he had to do it full time for the first time. It was the spark that Kolusz badly needed. Despite battling injuries at the time, it was one of his best seasons to date, and he recorded six assists at the World Championship and ten assists in seven national team games. 
 In 2020 GKS Katowice load up on big name talent in offseason. This included Kolusz and well-regarded Finnish head coach Risto Dufva. The Finnish coach would leave halfway through the year, and the PHL season was eventually canceled due to COVID-19. It was another successful year for the new offensive defenseman though, as he helped Poland advance in the Olympic qualification.
While Dufva may have left Poland mid-season, it did not stop Marcin Kolusz from making a strong impression. Such a strong impression that Dufva brought Kolusz to Finland with him. Now at 35-years-old, Kolusz was receiving the most considerable chance of his hockey career as he signed a one-year deal with an option for another year with Vaasan Sport, who play in Finland's top league the Liiga. It does include a two-month tryout to start. The most prominent level that a Polish player has played in recently, maybe only comparable to Alan Lyscarcyk playing in the ECHL and Ontario Hockey League. Kolusz is just one of the numerous Polish players that came into the season playing outside of Poland. Something odd for Polish hockey.
Kolusz is the oldest player on Sport's roster. He turns 36 in January. He is one of only 21 players who are 35 or older in the Liiga. It is not a stretch to say his career is nearing the end. Polish hockey has somewhat followed his career trajectory. Polish hockey was still at a high and had players in top leagues when Kolusz was drafted and played in the WHL and Tipsport Extraliga. At the same time, Polish hockey was on the decline and struggled when Kolusz was in the PHL. Polish hockey has a wealth of young talents, and players like Kolusz are now getting chances in stronger leagues outside of Poland. 
The signing was both shocking to Polish fans and celebrated by them. This is the second-ever appearance by a Polish player in the Liiga; Mariusz Czerkawski made a seven-game appearance during the 1995 NHL lockout. The signing, while popular among Polish fans, was not as celebrated in Finland. For many, a team at the bottom of the Liiga signing a Polish player was not worth writing about. Juha Oionen of Jatkoaika, scoffed at the signing and claimed it underestimated the entire Liiga.
"A couple of weeks ago, I already had the joy of the League's attraction in the player market, but in addition to the rug, Sport's activities also pulled the floorboards under their feet. It is pointless to dream of top players as long as the B-series national team legends are valid. A veteran player from the Polish main series sounds more like a Kummeli sketch than a thoughtful solution from a professional team. Interesting to see of whether Kolusz is in Finland for longer than Mr.Beginning."

Juha Oionen – Jatkoaika
To some extent, I understand the points that he and some others in Finnish hockey had. It is odd for a 35-year-old, whom many had felt their career is on the decline. His switch to defense full-time made a huge difference, and he still hasn't lost a touch of his skating. Things you don't normally associate with a 35-year-old. It also didn't help that Kolusz suffered an injury that would leave him out for the first nine games of the year. 
Kolusz would make his debut on November 13th on the top defensive pairing for Sport. He would record three shots in 23:22 TOI. This led his team in ice time. He would follow up that performance with six shots in just over 17 minutes of action. His team lost both games that weekend, 3-2 the first game, and 6-0 the second game. Crazy stat, Kolusz was not on the ice for a single goal against and finished with a 58.5 CF%. While it is only two games, that is the best corsi among all Sport players and 14th among all Liiga defensemen. He would then record his first assist on the powerplay in his third Liiga game.
Experts did not believe Kolusz would succeed in the League at all, but he has played flawlessly against at least two top teams, Kärppi and Ilves. 

Seppo Hautala – Keski Uusimaa
It is hard to describe Kolusz's career as a disappointment. He is one of the best Polish players of all time. A five-time division 1 bronze medalist, four time-time division 1 silver medalist, four-time Polish Cup winner, three-time PHL champion, and one of only three Polish players to get drafted in the NHL. He has done a lot for Polish hockey. It has always felt like he could have done more. Him making it to Liiga at 35 shows that. His career is not let down, but more of a what could have been in some regards. He can write a lot of that off with his last chance in the Liiga.
If you want to keep up with all the Polish hockey action, make sure to follow us on Twitter @PolandHockey, like our Facebook page, and add us on Instagram @PolishPuck_.